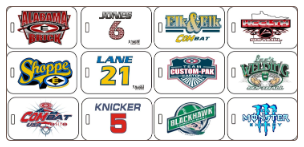 Click to enlarge image(s)
The SMALLER VERSION of the "Original Rectangle Tag" is a 2.5" x 4.25" thick reinforced fiber glass tag for any level of play from little league to the bigs. This tag is the very best way to personalize any player's bat bag or travel bag. The tag is white and is printed with full color to duplicate the team's colors and logos on one side and the player's name/number on the other.
Place order below and list the player('s) name(s) and number(s) in the boxes provided.
EMAIL LOGO TO teamgear@tmgr.biz
Next, add up number of tags ordered and enter in quantity box. Each tag comes with an attachment strap. MINIMUM ORDER IS 10 TAGS. Teams can order fill-in tags in the future with no-minimums once the initial order of 10 tags is placed as long as all art is the same. For orders less than 10 tags, please order the TEAM TAGS or ALL SPORTS TAGS.
*MOST ORDERS SHIP WITHIN 24 HOURS