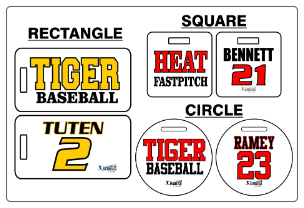 Click to enlarge image(s)
Tag is offerered in three different shapes (SMALL RECTANGLE, LARGE RECTANGLE, SQUARE, AND CIRCLE)
A thick reinforced fiber glass tag that comes with an attachment strap. These tags are great for identifying any type of sports team bag. Durable enough for airline travel. These tags will have the team name in bold text on one side and the player's name/number on the other.

Dimensions for tags
--------------------------
Small Rectangle 2.5" x 4.25"
Rectangle 3" x 5.5"
Square 3.5"
Circle 4"

*Minimum order of 3 tags on First Order of same style
Do not order this tag if you want your custom logo on the tags. Order the Custom Logo Tags insead
No Minimum for Re-orders
*Please choose shape when placing order
*Can specify up to three colors/tag background will be white
*Durable enough for airline travel
*email information if too lengthy to teamgear@tmgr.biz
*School or Organization orders can be placed over the phone and we can bill or accept credit cards.
*Schools may order with P.O. #'s
*MOST ORDERS SHIP WITHIN 24 HOURS